Three simple steps:
1. Create your file
2. Upload your file to www.TechStation.se
3. Place your order by adding your parts to the shopping cart
1. Create your file
Choose a program to work in

To create a DXF file that you can upload to TechStation.se you first need to choose a suitable program to draw in. Either you can choose to use a vector based drawing program like Adobe Illustrator or you can use a CAD program like AutoCAD, SolidWorks or Google SketchUp.
Below you will find a list of programs that will get you started and they are all free to use. Click the link besides there name to head over to that programs webpage.
2D drawing program:
Inkscape - https://inkscape.org
2D CAD:
QCAD - https://qcad.org
3D CAD:
Fusion 360 - http://www.autodesk.com/products/fusion-360/overview
Is there other software you use and like? Send us a message and we will share it with the whole creative TechStation community.
Draw your part

Once you have got going with a suitable program you are ready to start drawing parts that will later be laser cut.
Some things to consider:
We cut in sheet material. Your parts must be 2 dimensional. Through clever usage of 2D parts almost anything can be created.
Head over to the page "Our materials" to read more about the materials we have to offer. On each material page you will find two important pieces of information that you should consider. First you will see what thicknesses we offer and secondly how wide the cuts are in that particular material.
When we cut your part the laser follows the lines you have created and the laser burns/melts it way through the material. This creates a cut width that varies depending on the thickness and the material you are cutting. Often you don't need to consider this fact because the cuts are generally pretty thin and if your parts are to be assembled its often okay if holes become a little bit bigger and tabs a bit smaller to ease assembly. But if you need better dimensional accuracy you need to compensate for the cut width. This is done by making your part half the cut width bigger in each direction and removing half the cut width from the radius of all holes.

Do to the nature of laser cutting its impossible to get an exact size, but by compensating for the cut width you will get closer to your desired dimension.
Remember that the cuts are not 90 degrees to the top surface The cut that is produced when laser cutting is V shaped. Normally this doesn't effect the assembly of parts in any way, but can be important to remember when drawing your creations.
The thickness of the lines you draw has no effect on the final part. The laser always follows the center of each line.
There are three different operations that can be done with laser cutting 
| | | |
| --- | --- | --- |
| 1. | Cut |  = black color |
| 2. | Line engraving |  = any green color |
| 3. | Fill engraving |  = any blue color |
Further down this page you will find a description and image of each process. What lines are to be cut or engraved can be set when you upload your part to TechStation.se or you can do this in your drawing program by setting the line color to corespond to the operation you wish to use.
Save your part as a DXF file
How to save your part as a DXF file varies from program to program but generally follows the steps below.
1. Select what you want to save
2. Click "Save as" or "Export" (depends on what software you are using)
3. Choose DXF as the file format
4. Click on save
To double check that your DXF file looks correct you can always upload it to our site. There you will see exactly how it will turn out.
2. Upload your file to www.TechStation.se
To upload your part go through the 6 tabs found on the right hand side of the file upload page.
Start by choosing your file in the first tab "Select File".
Once you have uploaded a DXF file and selected what material you want to use, a price will be automatically calculated. Remember that you can always go back and change all the settings or upload another file to see how this affects the pricing.
In the "Edit Part" tab you can choose what you want us to do with your part. Cut right through the material, engrave a single line or engrave an area. The operation to be performed is indicated by the color of your lines. To change operation select lines by clicking on them followed by clicking on one of the operations: Cut, Line Engrave or Fill Engrave. If you want to you can also choose color before you upload your file. To do this simply make the lines that are to be cut a black color, lines that are to be engraved any green color and any fill engravings in a blue color. Please note that fill engraving only can be selected for lines that together create an enclosed space.
Here are some examples of what the three different options look like in 2mm MDF:
Cut = Black lines (Note that the small lettering is created using "fill engrave")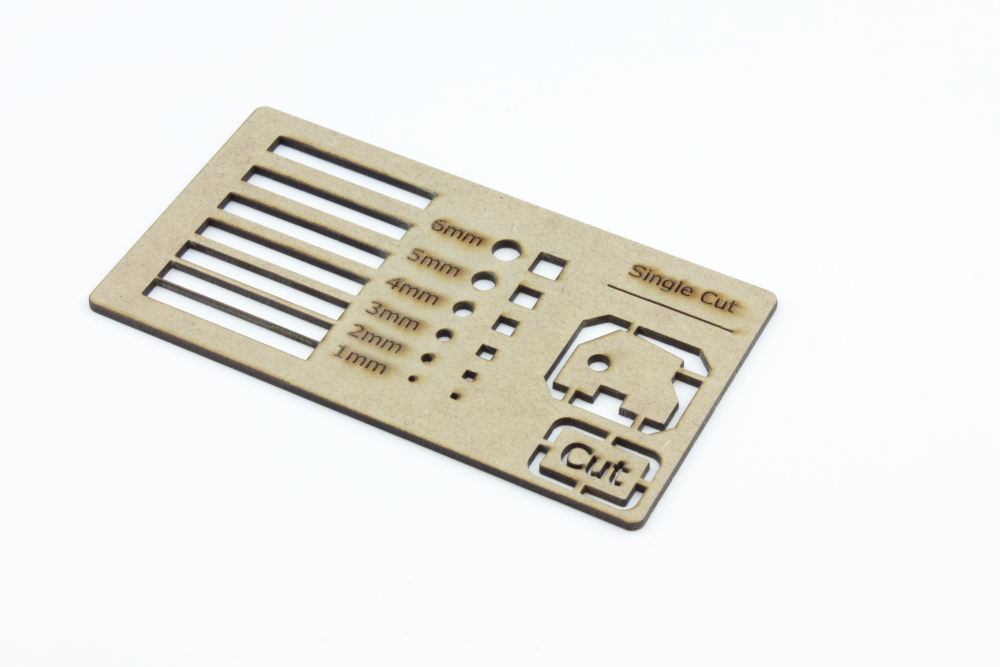 Line Engrave = Green lines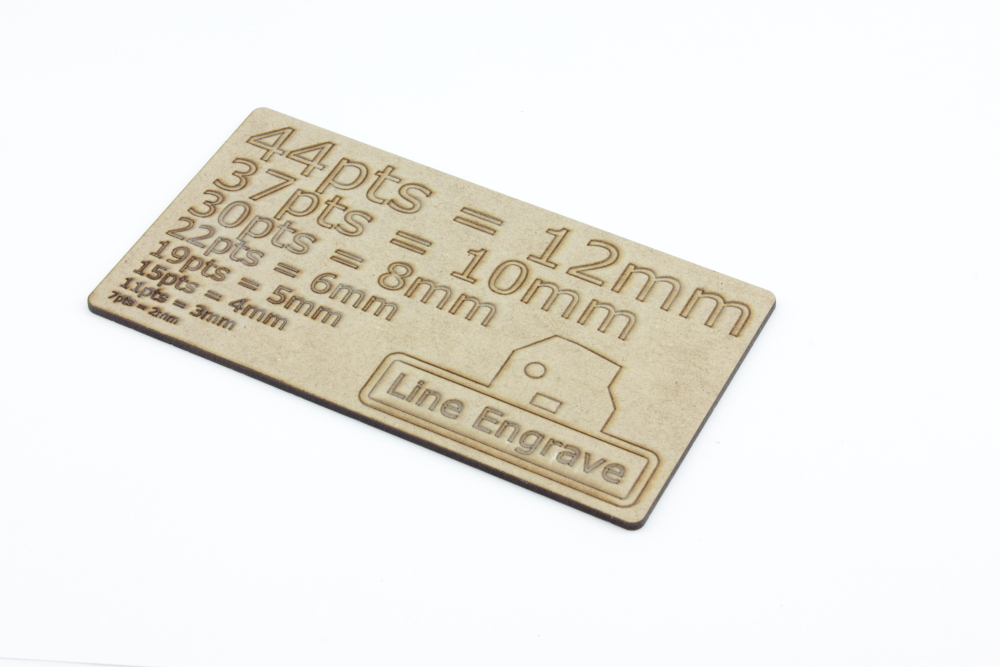 Fill Engrave = Blue lines with light blue fill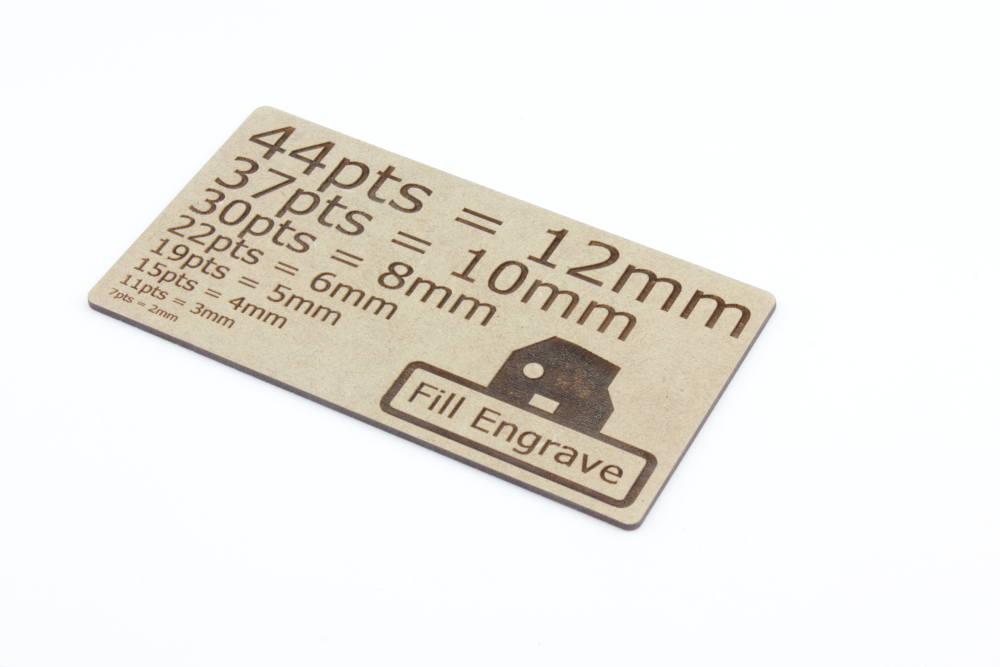 (Here the engraving has been cleaned after the laser engraving process)

Once you have made it to the tab "Final Checks" fill in the name and information you want to be associated with your new part. When the program has all the information needed the "Save Part" button will become dark blue.
Press "Save Part". This will upload your part to TechStation and make it into a product only you can access. All your uploaded parts can than be found in your "My Parts" folder.
By pressing the "Save Part" button you are not placing an order for that part, only saving it to the site. Once the part is available to you on the site you can review, add to shopping cart and order your part as many times as you like.
3. Place your order by adding your parts to the shopping cart
To order your parts head over to "My parts", there you will find all the parts you have created on the site. Click add to cart and go to the checkout to place your order.
Happy creating!
(If you run into any problems don't hesitate to contact us, we are happy to help you get started)